North Georgia`s Gold and Silver Center
Products and Services Offered
Buying and selling collectible coins, including all gold, silver, and copper U.S. issues
Buying most forms of scrap gold, including rings, earrings, bracelets, necklaces, etc., and all forms of scrap sterling silver, including jewelry, silverware, plates, bowls, etc.
Extensive inventory of investment-quality gold bullion coins (American Eagles, South African Krugerrands, Canadian Maple Leafs, Austrian Philharmonics, Chinese Pandas, etc.)
Silver bars and rounds and silver bullion coins (American Silver Eagles, Canadian Silver Maple Leafs, etc.)
Free verbal opinions of coin values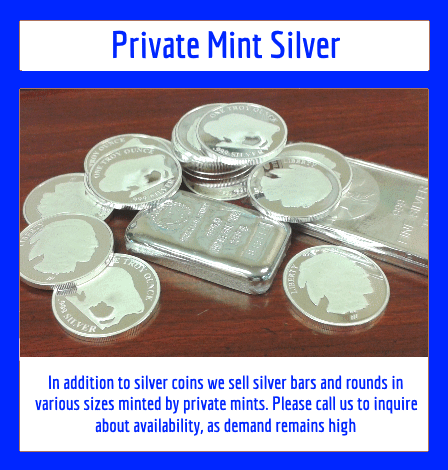 Our store is open Monday through Friday from 10:00 am until 5:00 pm; closed Saturday and Sunday except by appointment.
Customers in northwest Metro Atlanta and northwest Georgia may find our Cartersville store more convenient - please visit The Numismatic Gallery at 1010 North Tennessee Street.
See reviews of our business.
Are you interested in investing in coins, gold, or silver? We have investment options to accommodate all budgets
Do you have a coin collection to sell? We buy most U.S. coins and many foreign ones